INSIGHTS 2023 Laminates Lookbook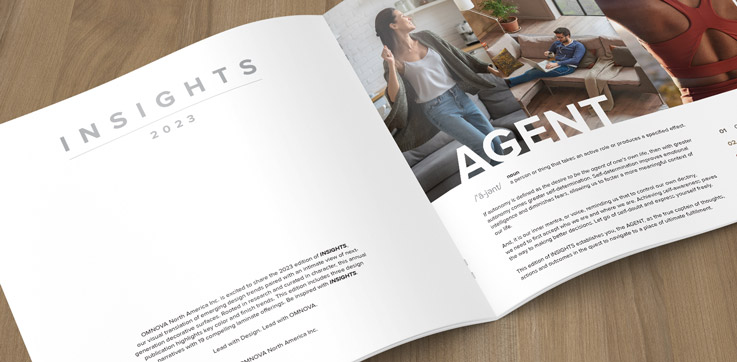 Produced annually, INSIGHTS is our visual translation of emerging trends, connecting them to newly created laminate designs from OMNOVA. This edition, titled AGENT, comprises three engaging market-leading trend narratives and more than 15 new designs:
OUTLOOK – Its strong and neutral tones support the need to have complete, autonomous authority over your lifestyle.
OUTLET – A color palette is inspired by the often-desired, routine sensations of warmth, security and renewal.
OUTDOOR – A reminder to never underestimate the regenerative healing powers of allowing nature to simply wash over you. Get outside with its rich, solid and earthy hues.
"The 2023 Lookbook shares designs that reflect the idea that to control our own destiny, we need to first accept who we are and where we are," said Jane Suchla, Creative Manager, Laminates and Films at OMNOVA. This edition establishes you, the AGENT, as the true captain of thoughts, actions and outcomes in the quest to navigate into a place of fulfillment."
Download the INSIGHTS 2023 Lookbook below or click the links in the sidebar to download previous Lookbooks.